Brian May
Full Name
Brian Harold May
Born
July 19, 1947 in Hampton, London, England
Nationality
English
Occupation
Musician,
Songwriter
Producer
Astrophysicist
Instruments
Keyboard, Guitar, Vocals
Years Active
1965-present
Spouse(s)
Chrissie Mullen (1974-1988)
Anita Dobson (2000-)
Children
Jimmy May
Louisa May
Emily Ruth May
Associated Acts
Queen
Smile
Phenomena
Website
http://brianmay.com/
Brian May CBE (born July 19 1947) is an English musician, singer, songwriter and astrophysicist who achieved international fame as the guitarist of Queen. As a guitarist he uses a home-built guitar, "Red Special". Queen's albums include numerous May compositions, including "Tie Your Mother Down", "I Want It All", "We Will Rock You", "Fat Bottomed Girls" and "Who Wants to Live Forever".
In 2005, a Planet Rock poll saw May voted the 7th greatest guitarist of all time. He was ranked at No. 26 on Rolling Stone magazine's list of the "100 Greatest Guitarists of All Time". In 2012, May was ranked the 2nd greatest guitarist of all time by a Guitar World magazine readers poll. He resides in Windlesham, Surrey.[3] He is an active animal rights advocate and was appointed a vice-president of animal welfare charity the RSPCA in September 2012.
He was appointed a Commander of the Most Excellent Order of the British Empire (CBE) in 2005 for "services to the music industry and for charity work".
May is a fan of Star Fleet, and had done a tribute to Paul Bliss' composition of the End theme in his first solo album in 1983; Star Fleet Project which further popularized the show to a certain extent.
Star Fleet Project
Edit
May accounts that his son, Jimmy May, in the 1980's each Saturday morning would wake him up to watch Star Fleet with him. May was immediately struck by the story and overall by the score of Paul Bliss, mainly the ending theme sung by Andy Brown. In his own words, May "became equally obsessed by it, and formed the idea of making a hard rock version of the title theme".
Recorded on the 21st and 22 April 1983 at the Record Plant Studios, Los Angeles, Star Fleet Project was released in October of the same year as a "Mini LP". The project was released as the work of "Brian May & Friends", consisting of May, guitarist Eddie Van Halen, drummer Alan Gratzer (of REO Speedwagon), Phil Chen (session bassist who played with Jeff Beck and Rod Stewart), and Fred Mandel (session keyboard player who also played as additional keyboard player on Hot Space World Tour and The Works). Roger Taylor, Queen's drummer, provided backing vocals for the title song.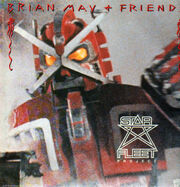 It was not meant for the tapes to be released and they had minimal mixing before release. May states "I could have put away these tapes in a bottom drawer and kept them as a private record of one of the best experiences of my life. But the few people I've played them for have urged me to 'publish'...I haven't messed one scrap with the tracking done on the day. The rest is simply mixed 'naked'."
Paul Bliss was naturally honored to have a musician at the stature of Brian May to honor his composition. As he recounts in the Making of Documentary, Bliss received a copy of the LP with a personal message from Brian, which he treasures. Go Nagai also accounts in the Documentary that he saw the music video on Japanese TV. He was confused, as at that point he had no idea the show was dubbed in English and so popular in the UK.
Confusion often exists that May was the one who did the original theme song. However, May himself has made it clear that Paul Bliss was the original composer, he was just covering the song.
Interestingly, May was in the band Phenomena with Kyoji Yamamato in the 80's. Yamamato was the leader of the rock band Bow-Wow, who happened to do the original music for the original Japanese Intro of X-Bomber.
Discography
Edit
This is for Brian's solo work, for his work with Queen see the Queen discography on wikipedia.
Star Fleet Project (1983)
Back to the Light (1992)
Resurrection - Japanese Tour Mini Album (1993)
Live at the Brixton Academy (1994)
Another World (1998)
Red Special - Japanese Tour Mini Album (1998)
Furia (2000)
External Links
Edit