X-Bomber has been distributed and broadcast in many other countries, dubbed into their respective languages. The series has seen a stronger following in many of these countries than its native Japan and its more well known English dub.
In Bulgaria, the series itself was not dubbed, but the two compilation films; The Thalian Space Wars and Space Quest for F-01 were released on VHS by Multi Video Center as "ТАЛИАНСКИ ЗВЕЗДНИ ВОЙНИ" and "ТЬРСЕНЕ НА 'F-01' В КОСМОСА" respectively.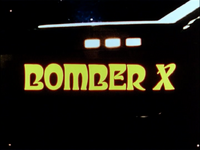 In French, the series is known as Bomber X and was dubbed in 1983 by Saban Entertainment. It first aired on September 21, 1983 on TF1's Vitamine block.
The French version contained newly composed music by Shuki Levy in addition to the original music. As a result, sometimes original sound effects are lacking in certain scenes, if the new music is replacing an old music sequence.
Halfway through the series, the dub went on hiatus and many of the voice cast did not return for the second half of the series.
Character Names
Edit
Shiro Ginga - Cyril
Bongo Heracles - Héraclés
Bigman Lee - Leo
Lamia - Floriane
P.P. Adamsky - P.P.A.
Kirara - Raspoutnik
General Kuroda - Général Christophe
Bloody Mary - Commander Gorgona
Kozlo - Admiral Karzul
Dr. Gedora - Dr. Vulcanox
Emperor Gelma - King Artus
Voice Cast
Edit
First Cast (Episodes 1-12)
Edit
Second Cast (Episodes 13-24)
Edit
Robert Bazil as Dr. Benn
Éric Legrand as Cyril
Marc François as Héraclés, P.P.A., Captain Halley and Narrator
Frédéric Pieretti as Cyril (Episodes 13-14), Leo and Captain Custer
Aurélia Bruno as Floriane
Henry Djanik as Général Christophe, Professor Ginga, Dr. Vulcanox and Artus
Annie Balestra as Commander Gorgona
Jean-Paul Coquelin as Admiral Karzul (Episodes 13-15, 17) and Artus (Episode 17)
Christian Alers as Admiral Karzul (Episodes 16, 18-22)
Despite the cast change, the end credits still credited the original cast after Episode 13.
Much of the added music by Shuki Levy and Haim Saban was music originally composed for the English dub of the Korean anime film Goldwing. [1]
In Germany, the series is known as Sternenflotte and first aired on January 10, 1999 on Sky Deutschland.
Character Names
Edit
Bongo Heracles - Kautz
Lamia - Reten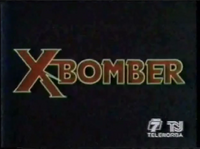 In Italy, the series was dubbed by CRC Cooperativa Rinascita Cinematografica and aired on Super Six TV and TeleNorba in 1982.
The Italian dub featured a special opening theme performed by "The Condors", a pseudonym for the band "The Brothers Balestra". The theme was released as a B-Side single along with the Italian theme to Kamui the Ninja, composed by them as well.
Character Names
Edit
Bongo Heracles - Herald Bond
Bigman Lee - Ryu
Kozlo - Koro
Emperor Gelma - Germal
Voice Cast
Edit
The Italian dub cuts minor scenes (at least 20 seconds worth per episode) to allow for a slightly shorter timeslot.
Latin America
Edit
In certain Latin American countries, the series is known as Flota espacial and was dubbed by Cadicy International Corporation in Cuba. It first aired in Mexico on TV Azteca in 1995.
Voice Cast
Edit
Middle East
Edit
In Arabic speaking countries, the series is known as صفر صفر واحد (Zero Zero One)
Character Names
Edit
Dr. Benn - Dr. Fahman
Shiro Ginga - Sharif
Bongo Heracles - Hani
Bigman Lee - Replete
Captain Custer - Commander Munther
Kozlo - Scorpio
Emperor Gelma - Germal
Voice Cast
Edit
Panama and Argentina
Edit
In Panama and Argentina, the series was dubbed into Spanish as Bombardero X, and is a completely different dub of the series from the one aired in Mexico and other Latin countries.
In Portugal, the series was known as Esquadrão das Estrelas (Squadron of the Stars) and aired on RTP in 1983. Different to the other countries which dubbed the series into their native language, the version aired was the original Japanese dub with Portuguese subtitles.
South Africa
Edit
In South Africa, the series was dubbed into Afrikaans as Vegskip X and aired on the South African Broadcasting Corporation in 1988-1989.
In Spain, the series was dubbed into Castilian Spanish as Bomber X by Premium Vídeo Productions and Ivex Films.
References
Edit